[ad_1]

When you think of Ardal O'Hanlon and Pauline McLynn your brain immediately flits to Father Ted. So when we learned that they would be playing a married couple in their latest series we just could not cope!
Neither could they, it would seem as they both joke that they couldn't stop laughing when they heard the news.
The pair are playing Sheridan Smith's parents in Sky's latest drama, Rosie Molloy Gives Up Everything. And VIP Magazine obviously had to find out everything about it!
Hey Pauline and Ardal. We have to know, what was it like working together again?
Pauline: I was relieved actually. Our only wonderment was why it didn't happen until now. But I'm glad it didn't because maybe we wouldn't have had as good a script as Rosie Molloy.
Ardal: It was a godsend. It was nice to hang out, we have seen each other over the years. Not for the first 10 years after Father Ted, but eventually, Ireland is small. You run into each other.
P: But we've not been paid to hang out! It turns out that when he's in Dublin, he lives at one end of a bus route that goes straight past my house. There's no escaping me! The journey is very easy for me to stalk him. Ardal is great! What was easy for us was that we kind of got to pick up where we left off…in some ways. Obviously, we're playing different characters. But there was a whole lot of stuff we didn't need to discuss. There was a whole lot of shorthand we already had. We'll be fine.
Did you know that the two of you had been cast?
A: We were very surprised when we found out! I'd go as far as to say in a state of shock. For about a week! I was about to quit acting.
P: In denial, some might say. I'll be honest with you because we haven't been in TV show together since Father Ted, when I was told who would play my husband I started laughing. The last name I expected was Ardal just because we hadn't done anything since!
A: That was my reaction! I guffawed! I thought it was a joke. It was great! Immediately you start thinking of the possibilities. Even promoting the show, it's definitely a talking point. I think on the practical level, having a good rapport and being able to work together, there was a method to their madness.
And playing a married couple this time, what was that like?
A: We are a convincing married couple! The slagging is already there and the bickering! The familiarity rings true!
P: I'm relieved we get to be a married couple now because it's very different from what we did last time we were on television together. It's easier for people who are watching to take on board. They won't be bothered from the first moment, they will see Mr and Mrs Molloy.
A: Ironically we didn't have many scenes together in Father Ted all those years ago. We were in the same scenes together, but there wasn't very much interaction.
P: It's very different, but it's very good. It's great when you get to work with someone who you love working with. And it's such a good script. And if we had to choose a daughter, for ourselves or a showbiz daughter, Sheridan Smith, my God, she's brilliant!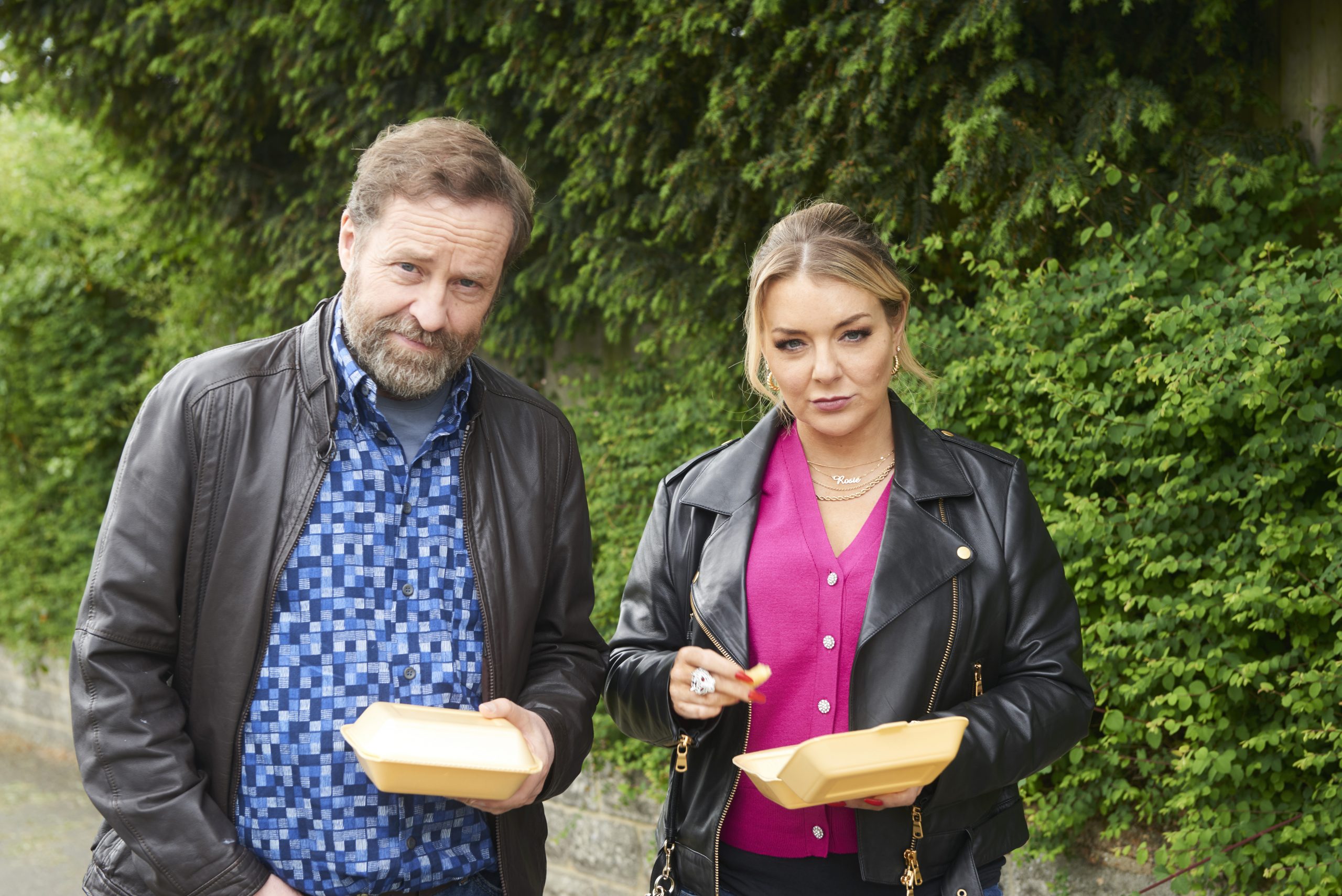 Yes, tell us about Sheridan!
A: She made our job very easy because we're just reacting to her. Most of our scenes are about Rosie. As an actor, you couldn't ask for anything more.
P: She's always on it! With Sheridan, she was on the money every time. I don't know how she does it! When you're working with someone that good, they pull you along. She was doing some of our work as well! You go in on the coattails and get something good to say at the end of all of it. She did all the work, I said something then at the right time. And that was all down to brilliant scripts by Susan Dixon. You get to work on brilliant scripts if you're lucky, but this one came just so perfectly formed.
Rosie Molloy Gives Up Everything is a comedy, but it gets into meaty content. What was it like on your behalf?
A: What was so nice from our point of view is that our characters were so well drawn from our point of view. We had our storylines. We had our own journey. Something to work with. With the best will in the world, sometimes when you're playing the dad or the mum character is not integral to the show.
P: Sky championed it for years. We're just at the end when you film it. But they've had it for years, they spotted something and really honed it. They made something brilliant. Huge Kudos to Sky and Hartswood for sticking with this. It was just there for the taking. I'm proud of punch of it. I think people are going to love it.
What was it like playing a family?
P: In the makeup truck, they always have our headshots up. And myself, Ardal and Sheridan's were up there and there was a bit of resemblance. We could be a family.
A: I think we need to take it back actually to the fact I was cast as Sheridan's father. Surely I should have been cast as her brother! That was the part I went for! [Laughs]
P: It's been a delight and the whole thing was such a happy experience.
A happy experience! With such a tough show?
A: And such grim subject matter, it's a show about addiction after all. Rosie Molloy is addicted to everything, she's addicted to sex and drink and drugs and food and she's reaching a critical point in her life where she needs to change something or there will be trouble. We play her parents who should be helping her a little more than we are because we're in denial about her problems and our own.
P: It deals with all those things in the most humane ways, through laughter. You'll be laughing until you realise you should be crying. I think a lot of people are going to binge it when it drops on December 7th! They should renew it for a second season immediately.
A: It's outrageous and it's all heart.
What are you most excited for viewers to see?
A: I think Sheridan's performance is what it's all about. It's quite incredible. It's award-winning on every level. We're very happy to be in that ensemble around her, to facilitate her and this character. That's what I'm most proud of and the writing is so good. My character is dealing with a serious illness and he's in denial about his fondness for alcohol. That's all there. I love, myself and Pauline, our whole relationship. We understate everything. I love that detail and it's a particularly Irish thing that we bring to it. We understate everything, we don't make a big deal about your issues. I'm really happy about this.
P: I'm excited to see us do some decent acting, in a well mad series, on a very selfish level. It's something to be proud of. It's such a relief to know it's good. As an actor, you want to be in good things. It's very exciting and I think people are going to enjoy.
Rosie Molloy Gives Up Everything hits Sky Comedy on December 7th at 10pm
[ad_2]

Source link