[ad_1]

Pippa O'Connor is undeniably one of the most successful models and businesswomen in the country, but even with all her victories there was a time when she felt "washed up".
Opening up on Angela Scanlon's Ask Me Anything, Pippa revealed that when she got pregnant with her first child, she struggled to find work as a model.
Saying: "When I started, I literally had no other work, and when I stopped modeling and had my first child, I was only 28 or 29 at the time and I was getting a lot of, 'what are you going to do now?'"
"It started before I had Ollie, I would have been working a lot back in the day in the Celtic tiger times and then I got pregnant, and it went from twice a fortnight to once a month the phone ringing and then maybe some months nothing and I started to panic."
Continuing: "I felt like I was washed up and I wasn't even 30 and I hated that idea, that I was relying on someone else to call me to work and I hated not having any sense of security."
But it was during this difficult time, that Pippa decided to branch out, and start the extremely successful clothing company POCO.
"So, I just got my teeth into wanting to start my own brand and since that day I said this is just what I'm going to do. I think sometimes when you have nothing to lose you just go for it," she said.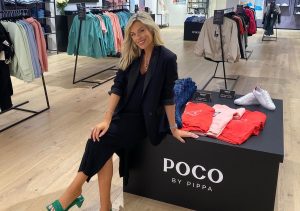 The mum of three confessed, many questioned her decision and underestimated her. Pippa learned to use this to her advantage.
Explaining: "Even now I play my cards close to my chest and I've learned over the years not to get too excited about things too quickly whereas before I would have been very green and innocent."
"I feel lucky that it's a family business, my sister works in the business so it's in the family, but I like that, because you can rely on your family, and they have your back."
Join Angela and the crew this Saturday night on RTÉ One at 9:45pm. The eight-part series runs until December 3rd. 
[ad_2]

Source link