[ad_1]

Vogue Williams is opening up about her experience with anxiety while expecting baby Otto. Speaking on her podcasts Taboo Talk with guests Luisa Zissman and Anna Williamson, the episode was dedicated to pre and post-natal depression.
Highlighting how 10 – 20 per cent of people experience mental health issues during pregnancy and up to one year after giving birth, the girls set out to break the taboo and start a conversation, with Vogue sharing her own struggles while expecting baby Otto.
The model revealed she had an anti-anxiety prescription prior to her pregnancy but didn't take them much. However, while pregnant Vogue felt she needed the medication, but was told not to take any by her doctors.
As she explained: "I feel like people are always scared about talking about it or going on medication when you actually really need it.
"I experienced really, really bad anxiety at the start of this pregnancy."
Continuing: "Just life was happening and it was really stressful and they told me to come off, because I have my anxiety medication."
"I don't ever take it but I needed it then and then I was like, 'Right I have it here can I take it?'"
"And they were like, 'You can't take that' and then after not taking it for three months that I would have needed it they were like, 'Ah you can take the odd one' and I'm like, '[Jesus].'"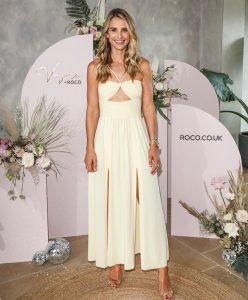 Vogue also opened up about the struggles of sharing her pregnancy online, highlight an incident when she received backlash for using formula.
Explaining: "I always start with those little bottles in the hospital before your milk comes in."
"And I remember posting about my hospital bag and they were in the bag and people were contacting the ASI saying I was breaking advertising standards and I was like, 'I didn't get paid to put that in my bag.'"
[ad_2]

Source link